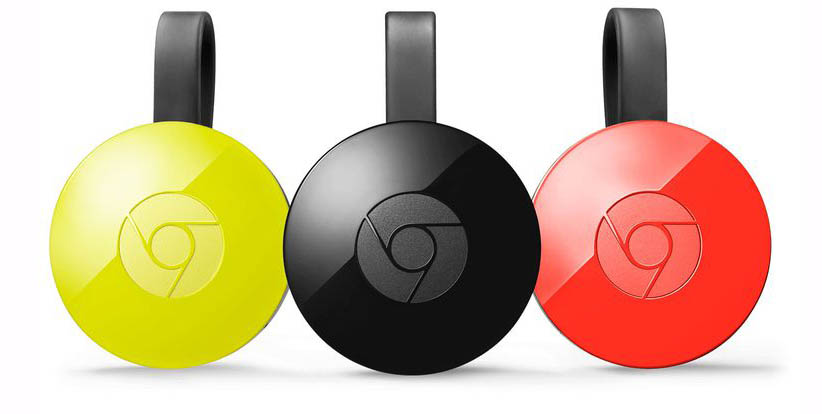 So… you've heard about this casting thing and getting your laptop or phone screen transmitting on to your TV but you're not too sure how it works… well, this article will hopefully help explain all that.
What is Chromecast?
A Chromecast is a simple media-streaming device that plugs into the HDMI (High Definition Multimedia Interface) port on your television.   Once you have a Chromecast connected, you can use your phone and the TV to cast your favourite movies, YouTube videos, audio playlists, photos, presentations, favourite social media web sites and more direct to the television screen.  The Chromecast device works with almost any phone or tablet, laptop or PC (desktop) as long as it has an HDMI port.
What do I need for Chromecast?
You need a Chromecast device, a TV with a free HDMI port, a stable Wi-Fi connection and a computer or mobile device. The Chromecast box includes a USB cable for power and an adapter. You can plug the power cable right in your TV USB port. Alternatively, you can use a wall adapter. Control the device with your smartphone or tablet on Android or iOS, as well as PC running the Windows or Mac OS X.
How does Chromecast work?
Using apps on your phone, tablet, laptop or PC (desktop), you cast content to the Chromecast by tapping the Chromecast icon from within the application. Chromecast receives information about what you want to watch, finds the TV show or movie on the web, and streams it directly from the service. Your mobile device's resources are not used streaming tasks, and battery does not lose charge. Use your mobile device or PC (desktop) as a remote control for the Chromecast. The only exception is when the Chromecast mirrors your Chrome browser on your PC (desktop) or laptop. In this case, the Chromecast depends entirely on your PC as the source for what it displays.
Why do I need Chromecast?
If you subscribe to video streaming services like Netflix or NEON and you don't have an internet enabled (or SMART) television, you can only access those services through your laptop, PC, tablet or phone. Unfortunately, all of them have small screens. If you would better curl up on your living room sofa and watch content on a big TV, Chromecast may be the device for you.
How do I set up Chromecast?
Just plug it into your TV, have a phone or laptop, and follow the instructions. As soon as Chromecast and your main device connect to the same Wi-Fi, they should recognize each other and take you through the rest of the process. Sounds simple… that is because it is.  Chromecast has made streaming to TV redily available and means you don't need to buy a brand new TV anymore!
What can I watch on Chromecast?
Chromecast has access to video and audio content from various services. Developers continue to release more Chromecast-friendly applications with each passing week, though we are sure that many of the popular apps will make it to your TV with many recurrences.
What about the Chromecast Audio?
Google's Chromecast Audio offers a simple way to turn almost any powered speaker into an audio streaming device. Similar to its video-streaming device, the Chromecast Audio casts audio from services like Spotify, Pandora, and many others. Instead of an HDMI connection, the Chromecast Audio connects via 3.5mm audio jack.
OK – I am convinced.  Where can I get a Chromecast?
A Chromecast device can be purchased from a variety of different places.  They usually retail from around $69– click here to buy online at MightyApe.
Alternatively… you can get a FREE Chromecast with some selected broadband plans from providers like MyRepublic or Slingshot.  See all the deals with free Chromecast offers below.