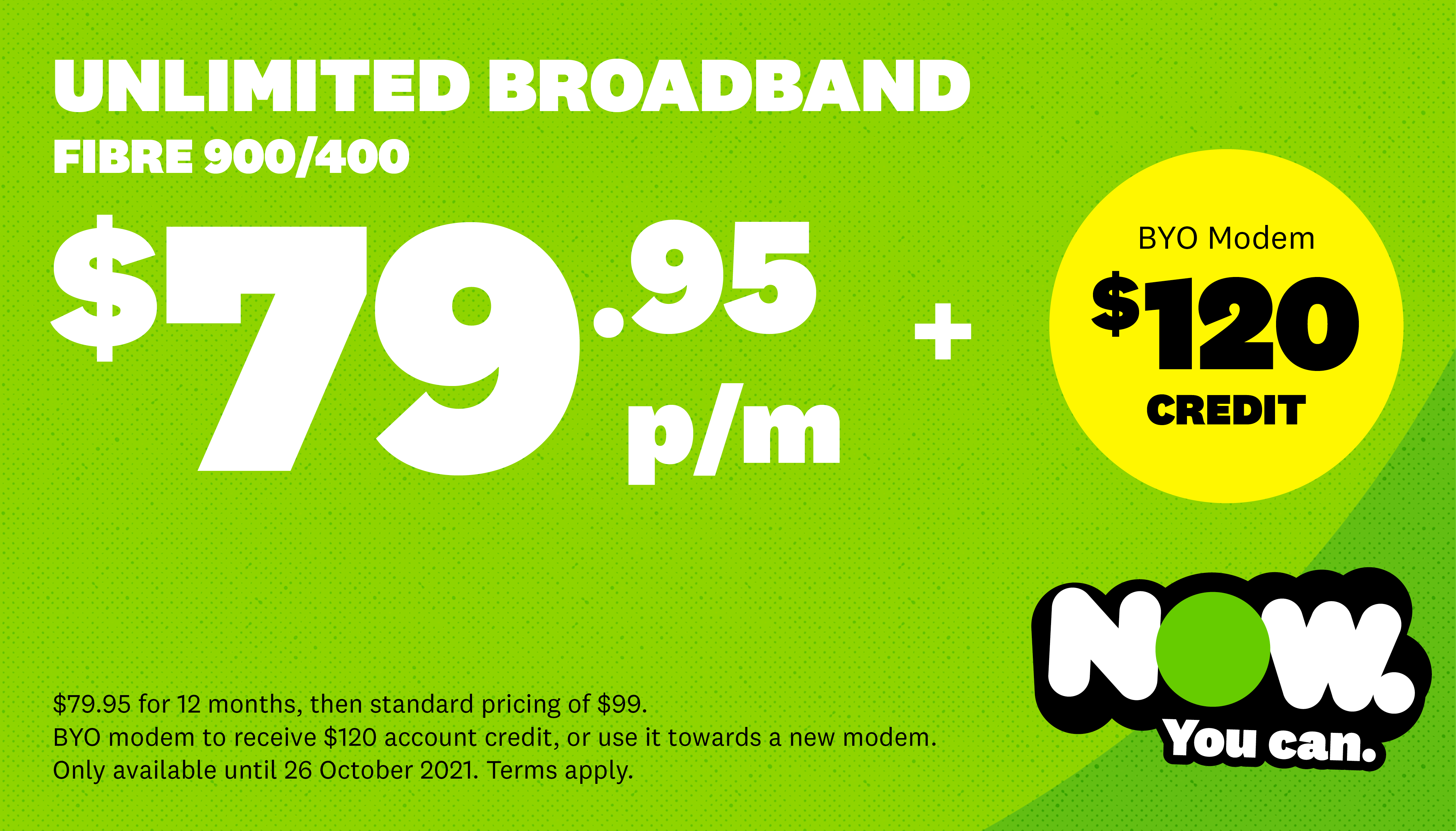 Don't miss this EXCLUSIVE NOW Broadband offer with $348 worth of savings and award-winning customer service!
 
Get Unlimited Ultra Broadband for only $79.95/month when you sign up for 12 months.
Bring your own Modem and you will also get a $120 account credit. If you need a new modem, use this credit towards one from NOW.
Available for new residential customers only.
Add a phone line for an additional $5/month.
Join NOW, experience better.
Offer available for limited time, expires on 26/10/2021 - be quick!
 
Terms and Conditions apply.*
 

SIGN UP ONLINE BY CLICKING BELOW OR CALL 0508 226672
*Terms and Conditions – Special Short-Term Promotion
Offer valid from 12th October 2021 until the 26th October 2021.
Fibre 900/400 Unlimited Naked Broadband for $79.95 per month and $120 Account Credit.
Includes Fibre 900/400 only.
Adding a phoneline will be an additional $5 per month. 
Only available on a 12-month contract term.
Offer cannot be used in conjunction with any other offer. 
Available for new residential customers only.
Promotion pricing is valid for your first 12-months only. After this time our standard pricing will apply. The promotional price will be applied via a recurring monthly account credit for 12 months. This excludes the first part-month.
The $120 credit will be applied as account credit to your NOW account upon connection and cannot be redeemed for cash. 
You can use your own Modem, but this must be compatible with the selected NOW network. For more information please refer to – Can I use my own Modem. 
If you require a modem, you can use your $120 account credit towards the purchase of one. Please note: $14 postage and packing fee applies for modem delivery.
Early termination fee ($199) will apply.
These terms and conditions must be read in conjunction with NOW Full Terms and Conditions available on www.nownz.co.nz.