The first phase of the Government's Ultra-Fast Broadband programme has been completed, and Kris Faafoi said it is ahead of schedule and within budget.
Initially proposed by the government in 2009, the Ultra-Fast Broadband (UFB) initiative was proposed by the government. The programme aimed to provide high quality broadband to 75 percent of the population by the end of this year.
The initiative was expanded in 2017 to cover 87 per cent of the population – that target is expected to be met in 2022.
Kris Faafoi, Minister of Broadcasting, Communications and Digital Media said that the UFB programme had been a game-changer across several sectors.
"From state-of-the-art schooling in the classroom to high-speed health services both in hospitals and through mobile services in communities, UFB is adding value in New Zealanders' lives."
The Ultra-Fast Broadband initiative is all about bring high quality broadband to New Zealanders – so we at Broadband Compare are right into it!
Here are our favourite figures about the Ultra-Fast Broadband Initiative  
79% of New Zealanders now have access to high quality broadband
That's more than 1,500,000 households and businesses, including all urban schools and hospitals, with access to Ultra-fast broadband
The completed first phase of the roll-out makes New Zealand the eighth most Ultra-Fast Broadband available country in the OECD
The expansion to the UFB programme is scheduled for completion in 2022, and will cover 87 per cent of New Zealand's population and 405 cities and towns.
But 720,000 New Zealand homes and businesses are missing out on Fibre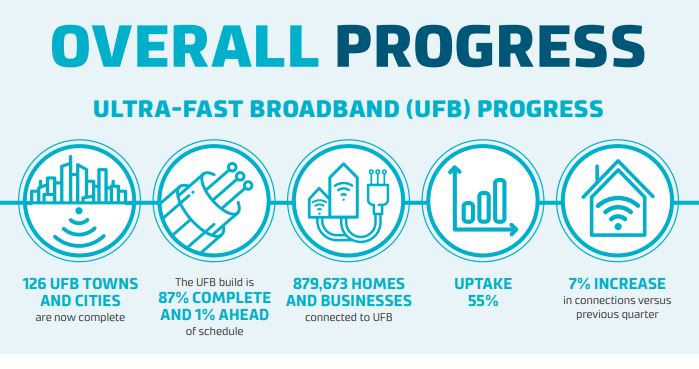 According to the latest Q3 report 55% or 879,673 homes and businesses are currently connected to UFB. That means that around 720,000 New Zealand homes and businesses are missing out - they could be enjoying ultra-fast fibre but they haven't switched over yet.
What is Ultrafast Broadband?
Ultra-fast Broadband uses fibre optic cables to deliver fibre directly to your home or business. It is much more advanced and efficient than the copper technology that was rolled out in New Zealand over the last century. 
Ultra-fast Broadband can deliver close to 1,000 Megabits per second. Allowing customers to access and stream entertainment and education content, access business applications to improve productivity and whole range of other uses that require an ultra-high speed connection. 
Why should I get Ultrafast Broadband?
It is fast! UFB can deliver speeds close to 1,000 Megabits per second at present, depending on your chosen provider. That's fast enough to stream ultra-high definition movies to 40 different devices simultaneously.
If you live in a home with multiple users streaming movies and games, and accessing content at the same time, if you work from home or run an office, Ultra-Fast Broadband will handle anything you can throw at it!
Is Ultrafast Broadband available in my area?
Finding the best internet plan for your address is easy using the broadband checker at Broadband Compare. We can help you compare thousands of broadband plans from over 100 Internet Service Providers.
How do I change Broadband Providers?
It's easy to switch broadband providers with Broadband Compare. Simply type your address into our broadband checker, compare the plans available at your address and click to sign up. Check our simple guide to switching broadband plans to learn more.