We are seeing an increasing trend in New Zealand for utility companies to offer bundle deals across different sectors, for example to bundle their power and broadband plans together.
But are bundled plans a good deal for customers, and how can you get the best deal out of bundled plans?
What are bundled deals?
Bundling products together to deliver more value to customers is not a new idea. They can be a great way for customers to get a good deal, and for companies to sell more to each customer. For example: companies selling and computer with a printer; 3 for the price of 2 on canned veggies; buying Sky basic and adding Sky sports or Sky movies
Utility companies are no different, and have been bundling their products and services for some time - for example electricity with gas and mobile with broadband. A new trend that we are seeing in the New Zealand market of bundling products across different industry sectors, for example electricity with broadband.
Are bundled plans a good deal for NZ customers?
Research at NZ Compare indicates that our Broadband and Power customers are increasingly open to the convenience and benefits of bundling their services.
54% of people that switched power provider had the option to bundle it with other utilities, and over 57% of those who had the option to bundle power with another utility did so
86% of broadband consumers would consider bundling broadband with another utility in the future
Both power and broadband customers said that the main reason they would consider bundling services is the get better value for money. Around 17% of respondents said that it was because they only wanted one bill.
Consumers are being offered increasing open to the types of services they would consider bundling. As a top choice 46% would consider broadband with electricity and 27% with mobile.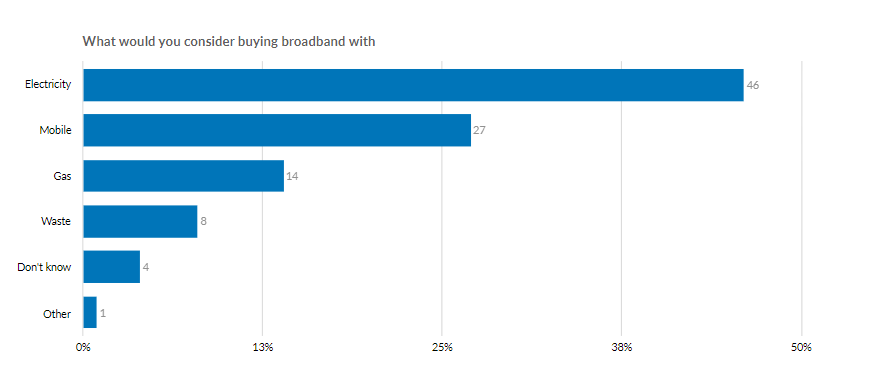 How to get the best out of bundled deal.
There are lots of choices when it comes to the utilities marketplace. It is always a good idea to look at the options and compare them side-by-side to see what will work best for your circumstances.
Stuck in a contract?
Interestingly - a third of consumers surveyed who did not bundle when they had a choice to, said it was because they were on a contract with the other utility on offer.
This can be a key issue if you want to switch to a bundled plan, but your current utilities have different contract lengths.  Switching to a bundle plan may incur a termination fee that cancels out the savings you get from bundling.
A simple way to work around this is to temporarily move your power or broadband onto a no contract deal for a few months until your other contract has run out.