As you know, at NZ Compare we are all about helping you compare the options and make an informed choice about services like broadband, power and more. We're also keen to help you save money all year round, and we absolutely love Black Friday.
If you are looking for some awesome Black Friday deals, we have gathered some of our favourite ones below. Find Black Friday deals from leading New Zealand brands!
NZ Black Friday Deals 2019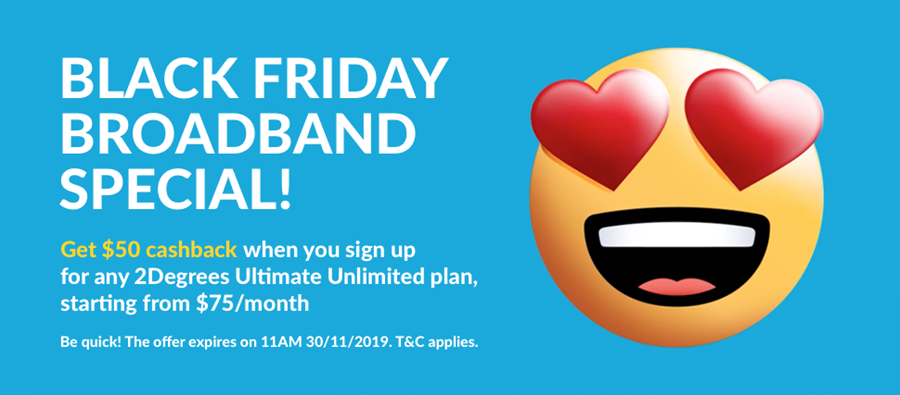 Get The Black Friday Broadband Deal

Get The Black Friday Power Deal
What is Black Friday?
Black Friday is typically on the Friday following Thanksgiving in the US when retailers begin the holiday shopping season.
Black Friday is typically a day when stores offer great sales and discounts. And, although it is typically an epic sales shopping day following a US holiday – Black Friday has spread around the globe as an online shopping phenomenon. This means, you can also find great Black Friday deals in New Zealand.
In America retailers will typically offer impressive bargains and discounts. We are all familiar with scenes of crowds queuing through the night and trying to break the doors down before shops open to get a great bargain.
Luckily in NZ we take a more civilised approach to Black Friday, as it's mainly an opportunity to nab great deals online. Typically international brands have offered Black Friday Deals online, but New Zealand brands are increasingly getting in on the action.
Many people use Black Friday sales as an opportunity to save on their Christmas Shopping. So why not fire up the laptop, dust off the credit card and get your Christmas shopping done this Friday?
Do they have Black Friday Sales in NZ?
Absolutely! Although Black Friday is traditionally American, it is becoming a popular online shopping day in NZ.
When is Black Friday?
Black Friday is a bit like Easter, where the date moves every year depending on when Thanksgiving is celebrated.
Black Friday is on 29 November 2019
How to find Black Friday Deals in NZ
At NZ Compare we love a good deal – so we have gathered together some of our favourite Black Friday deal for 2019, so you can compare.
Black Friday vs Cyber Monday – what's the difference?
Black Friday is always followed with Cyber Monday on the following Monday. Typical Black Friday in the US has been a day where deals and sales are available in physical shops, and offers are often available in the days (or month) leading up to Thanksgiving. Meanwhile, Cyber Monday always falls on the Monday immediately after Thanksgiving, and is purely online offers.
Black Friday this year is November 29, 2019, and Cyber Monday is the following Monday on December 2, 2019.
In NZ, where most of the deals and sales are available online, Black Friday and Cyber Monday sales tend to morph together a bit. Although it is always worth checking for new deals and offers available on Cyber Monday!
Cyber Monday is typically purely online, so you may find better tech deals available on Cyber Monday.