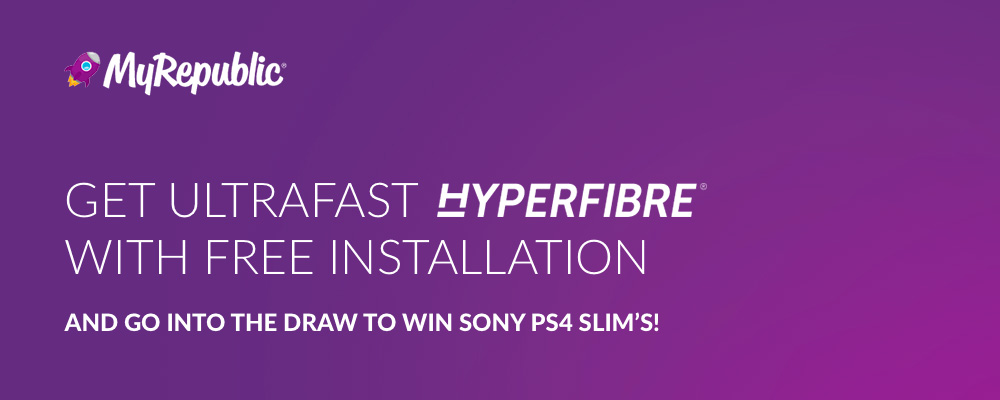 [EXPIRED]
MyRepublic brings you HyperFibre!
Want to try out of this world connection speed? Choose one of the exclusive HyperFibre deals with FREE installation and router* on Broadband Compare.
Plus, go into the draw to win 1 of 4 SONY PS4 Slim's when you sign up before 30 September 2020!*
HyperFibre is fast, ludicrously fast. It's so fast, in fact, that in lab trials it broke our default speed meter so we built a new one capable of handling these blazing fast speeds.
The rise in ultra-high definition video, cloud storage, video uploads, advanced gaming, working from home, and connected devices in a single household means HyperFibre's speed and capacity are more important now than ever. Fibre has always been the best, most-reliable connection, but wait until you experience the era of HyperFibre.
With HyperFibre you can:
•Have multiple, simultaneous gigabit downloads
•Experience lower latency
•Stream your heart out
•Boast about the fastest residential connection
Terms and Conditions apply*
CHOOSE ONE OF THE DEALS BELOW OR CALL 0508 226672
*Terms and Conditions
HyperFibre NZ Compare Exclusive Offer T&C's:
$0 upfront installation fee (normally $399), includes Nokia ONT / WiFi Router   which will need to be installed
24-month contract applies
Early Termination Fee up to $480 applies. The ETF will be pro-rated by the number of full months remaining in the minimum service term (equating to $20 per month remaining).
Homeline is only available via Voice App
Eligibility Terms and Conditions
HyperFibre orders must be placed at eligible Chorus addresses and activated between the July 13th and September 30th 2020, 
Connected customers must have paid their first invoice in full, 
One entry per residential connection, and 
Winners agree for their details to be used in MyRepublic general marketing purposes such as on the MyRepublic website and social media.
Eligible customers will be placed in all three draws but customers are eligible to win once only. 
Draw dates as set out below:  
2 winners drawn on September 1st;
2 winners drawn on October 15th
Winners will be notified via email
Prize contains: 1 Sony PS4® Slim 500GB Console and Controller. Postage and handling included.